The excitement is in the air… Star Wars: Destiny preview event at the Fantasy Flight Games center is less than a week a way, and shortly thereafter, launch events around the world will be taking place allowing everyone the chance to get their hands on this game for the very first time.  As part of our first giveaway on Episode VII of our podcast, we asked the question on our Facebook page, What are you most excited for with Star Wars: Destiny? The answers were vast, but we've selected some of our favorites that seem to speak to the core of possibilities of this game.
GETTING IN FROM THE START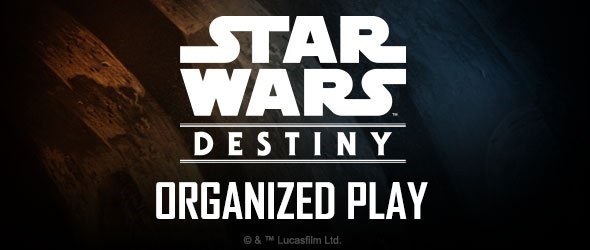 Benjamin – "Looking forward to getting into a game early enough to learn, perfect and hopefully get into some organized play competitively. Plus the game as the skill of a CCG but the randomness needed for fun with the dice. And with it being a Star Wars theme gamed, what's not to enjoy about the hunt. Plus trying to hunt down all of the promotional items is always an enjoyment factor for me."
Derrick – "The opportunity to get into a competitive game from the start."
It is fun to be part of something from the beginning, especially something that seems like its going to be huge.  It is sometimes hard to jump into games that have a history, making you feel like you have to do a lot to catch up.  I'm very excited for all of you jumping in early into this game and lets carry it on as long as we can!
UNIQUE GAME DESIGN

Issac – "The most interesting aspect to me is that I can't recall another card game that uses dice in this way. I'm excited to see how the global and local metas come together and create new types of decks using the dice mechanic. I can see a few types forming online already. Bro Dameron looks like he will make for some crazy aggro. Is anyone else curious to see how control will play in a game with this level of chance?"
Jason – "I am excited about the dice element of the game. There is something really appealing about the uncertainty of a dice roll that adds to the excitement of a game. It also sounds like this may end up distributed in big box stores, so buying a booster during a otherwise monotonous Target run would be great."
Jon – "I am very excited about the quick game style. One action each will never let you have a long wait before it is your turn again, it also removes the need for "interrupt" kind of abilities. The use of dice is another great thing in this game. Usually dice are extremely random but they do not feel that way in this game. They just supply a lot of different choices, and they can be manipulated relatively easy."
We heard quite a bit about how people are just fascinated by the unique mechanics of this game.  A happy medium between cards and dice that make it not one or the other but critical for both to be considered an element.  The fast paced, turn based play style.  So exciting!
SHARING WTIH FRIENDS AND FAMILY
Cameron – "I'm looking forward to playing with my son. Though he's too young to understand the strategy, he'll love rolling the dice and looking at the cards."
Chris – "I am sooo excited for a Star Wars game that gives the Prequels and animated series love 🙂 The idea of being able to have Qui-Gon, Young Obiwan or/and Ashoka on a team is going to be amazing! The other thing I am excited for is sitting at the kitchen table opening each pack with the Mrs."
David – "I'm really looking forward to sitting down with my two boys and cracking open some fresh packs of Star Wars Destiny boosters. The anticipation of looking to see if we pulled that legendary Darth Vader and other awesome character die. Then putting together a deck and battling it out."
John – "There's a lot about Density that I'm excited about. I'm excited to get into a Star Wars card game on the ground floor. I love the tactile feel of the dice, and as a father of two young kids I appreciate that the game is easy enough that they could play Destiny as well! It's always wonderful to play games with my family."
Alan – "I'm most excited about playing SW:D with my son. We both love Star Wars and tabletop games."
Jeffrey – "I have been waiting years for a new and fun Star Wars card game and this was worth the wait. I am also looking forward to teaching my girlfriend to play, she has never played anything like this but is really excited."
Seth – "I can't wait to play this with my 6 year old son! This is going to be something we both learn and get into together!"
How exciting is it that people want to share this game with their spouses and children.  We heard most from individuals who want so share this game with those they love.  Fantasy Flight Games has created a mechanic that is easy to learn for the casual player but has the depth and strategy that appeals to the competitive one.  I look forward to people of all ages playing and enjoying this game together as it is perfect for both casual gameplay and the highest level of tournament competition.
BECAUSE… STAR WARS… DUH

Matthew – "I just want to play as Lando. I doubt I'll make a light side team without him once I get a copy."
Marc – "I am very excited how the combination of dice and cards in a CCG will work and i am also excited which characters from the Star Wars universe we will see in the game. I hope they integrate some from the books too and not only from the movies."
Its Star Wars, and who doesn't love Star Wars.  Combining a steller franchise full of infinite possibilities in terms of storytelling, mixed in with such a unique, fun, easy to play, hard to master, collectable card game… sounds like a winning combination.
What Are You Most Excited For With Star Wars: Destiny? Let us know in the comments below! Thanks to everyone who participated in our first give away.  Please keep a listen out to our podcast for chances to win various exciting items as we continue to explore and discuss the world that is Star Wars: Destiny